View Video Here
Schedule: The vaccine is most effective if you get it before becoming sexually active. However, if you are already sexually active, you should still get vaccinated. Both girls and boys should get HPV vaccine, starting at around age 11–12 years. Older teens and young adults should also start or complete their HPV vaccine series. The HPV vaccine series is given over a period of 6 months
HPV is a group of more than 150 related viruses. Each HPV virus in this large group is given a number which is called its HPV type. HPV is named for the warts (papillomas) some HPV types can cause. Some other HPV types can lead to cancer. Men and women can get cancer of mouth/ throat, and anus/rectum caused by HPV infections. Men can also get penile HPV cancer. In women, HPV infection can also cause cervical, vaginal, and vulvar HPV cancers. But there are vaccines that can prevent infection with the types of HPV that most commonly cause cancer.
Websites:
CDC's HPV website offers accurate information and resources on HPV for all.
The American Cancer Society provides information on HPV and Cancer.
The American Sexual Health Association (ASHA) National HPV and Cervical Cancer Prevention Resource Center– resources include advocacy information, hotline services, publications, support groups and postdoctoral research from the American Social Health Association
National Cervical Cancer Coalition offers resources for women with cervical cancer, includes section devoted to survivor stories
Cervical Cancer Free American (CCFA) Offers resources from a collection of updated medical facts, policy updates, and organizational literature
Vaccines.gov provides resources from federal agencies for the general public and their communities about vaccines across the lifespan.
Children's Hospital of Philadelphia provides questions and answers about Human papillomavirus (HPV)  from the Vaccine Education Center.
Immunization Action Coalition offers free information and downloads for healthcare providers, coalitions, and parents.
Resources:
2008 through 2017 Healthy People 2020 HPV Vaccination Coverage Trend Report
5 Ways to Boost Your HPV Vaccinations Rates
VIDEOS- Dr. Margot Savoy, MD, MPH: #HowIReccommend HPV Vaccine
CDC Talking to Parents about HPV Vaccine
CDC 10 Tips for HPV Vaccination Success
6 Reasons to Get HPV Vaccine for Your Child
HPV Roundtable Dental Action Guide
AAP HPV Fact Sheet Oropharyngeal Cancer (OPC) and HPV Prevention in Children: 5 Key Points that Dental Professionals Need to Know
 AAP HPV Fact Sheet Answering Questions About HPV Vaccine: A Guide for Dental Professionals
HPV Vaccine: Same Way, Same Day™ is a brief, interactive role-play simulation designed to enhance healthcare providers' ability to introduce HPV vaccine and address HPV vaccine hesitant parents' concerns.
American Cancer Society HPV Cancer Free Protecting our Children from HPV Cancers
CDC oropharyngeal cancer power point
6 videos with actions for health systems to get adolescents in for vaccination/well-child visits in July & August
4 new videos for health systems to use with parents (addressing trust, safety, essential service, and coverage for newly uninsured)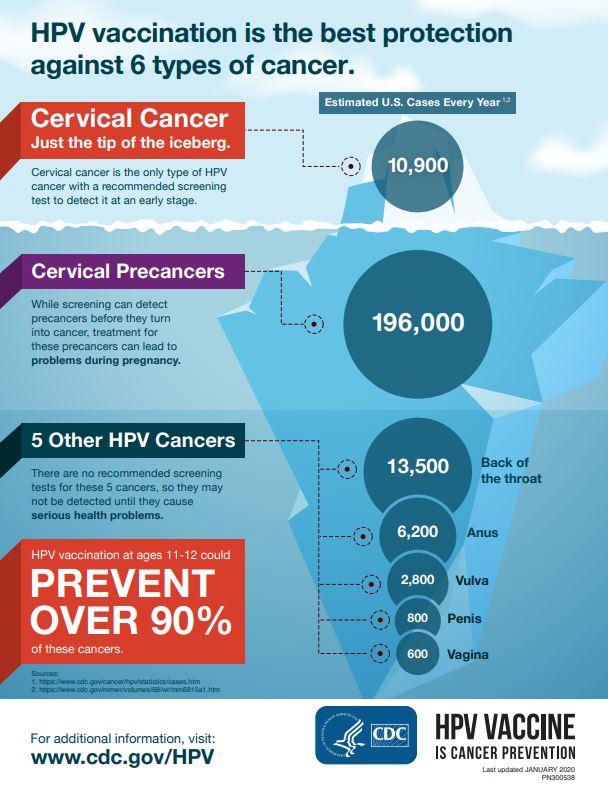 Someone You Love: An HPV Documentary

Want to see #HowIRecommend Videos? Follow the link here for the complete series by the CDC.