Coverage Area
Columbia County, Montour County, Northumberland County, Snyder County, Union County
Mission
The Central Pennsylvania Immunization Coalition was formed in August 2016. The mission of Central Pennsylvania Immunization Coalition is to promote health through age-appropriate immunizations for all residents.
Upcoming Meetings:
Our next coalition meeting will be held Tuesday, October 17that 3:30 PM.
To view this month's newsletter, click here.
Make sure to follow/like the CPIC Facebook and Instagram pages to stay up to date on current immunization information!
The 16th National Conference for Immunization Coalitions and Partnerships (NCICP)
The 16th National Conference for Immunization Coalitions and Partnerships (NCICP), formerly known as the National Conference on Immunization and Health Coalitions, is the only conference solely dedicated to collaboration and partnership as a way to improve immunization uptake, educate our communities, and prevent the spread of disease. The conference is an engine to improve immunizations and public health issues by sharing successful strategies that strengthen the work our coalitions and partnerships do.
The Pennsylvania Immunization Coalition (PAIC) is proud to host the 2024 NCICP conference. Our statewide work increases access to immunizations for vaccine-preventable diseases through support of local immunization coalitions. We warmly welcome our colleagues and partners from across the country to learn from each other as we share our successes and brainstorm solutions to shared challenges.
Secure your spot – click here to join us in advancing the crucial mission of safeguarding public health through immunization.
Registration after December 18, 2023: $575
Students with ID: $100
Scholarships are available. For information on scholarships to support travel to the conference please contact Erin Babe or Dr. Angela Shen using our contact form.
If you are interested in sponsoring a scholarship, see our Sponsors and Exhibitors details.
Interested In Joining Our Coalition?!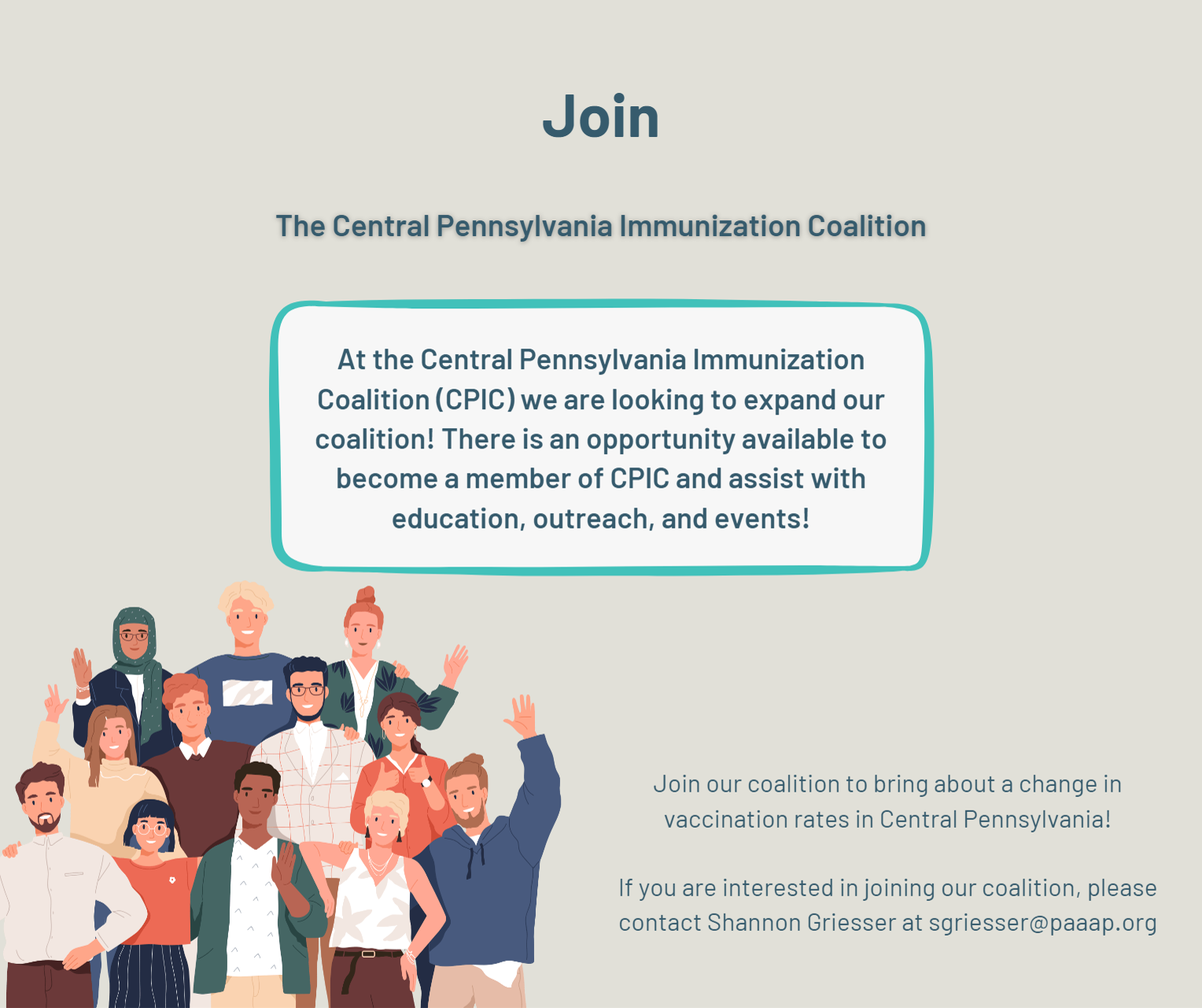 Updated COVID-19 Vaccination Information by County 
Contact Information:
Shannon R. Griesser, MPH
Immunization Coalition Coordinator, Northeast and Central Counties
Pennsylvania Chapter, American Academy of Pediatrics
Address: PA Chapter, American Academy of Pediatrics
661 Moore Road, Suite 200, King of Prussia, PA 19406
Cell: 610-256-8990
Email: sgreisser@paaap.org
Sharon Cryder – Coalition Chairperson
Email: crydersl@upmc.edu
Visit Our Social Media Pages!