Let's Talk: Strengthening Vaccine Confidence and Acceptance in the Pediatric Provider Office.
Presented by: Sarah Mbaeyi, MD, MPH
Intended Audience:  Pediatricians, Family Medicine Physicians, Residents, Nurses, Nurse Practitioners, other Practice Staff
Objectives — At the conclusion of the activity, participants should be able to:
Provide overview of CDC's Vaccinate with Confidence strategic framework.
Describe communication and organizational strategies to promote vaccine confidence and acceptance in your practice.
Review steps to help get routine immunization services back on track after COVID-19-related disruptions.
Click here to view the archived webinar. 
Let's Talk: Promoting Human Papillomavirus (HPV) Vaccination in Primary Care & Dental Practices
Dr. Alós-Rullán is a public health professional with 10 years of hospital dentistry experience and 15 years of public health and data analytical methods experience in federally funded Maternal and Child Health and Federally Qualified Health Center programs. He has10 years of experience in community-based diabetes prevention and lifestyle intervention programs.
Moderator: Laura D. Harbage, BSN, RN— Public Health Nurse, Chester County Health Department; Chair, Chester County Immunization Coalition
Intended Audience: Dentists, Dental Practice Staff, Dental Students, Pediatricians, Family Medicine Physicians, Residents, Nurse Practitioners, Nurses, Registered Dietitians, other Practice Staff
Objectives — At the conclusion of the activity, participants should be able to:
1. Understand the immune-evading mechanism of the Human Papillomavirus (HPV);
2. Describe the rationale for HPV vaccine early in life; and
3. List three key discussion points with parents about HPV vaccination.
Click here to view the archived webinar. 
Strengthening Vaccine Confidence in Pediatric Practice: 1.0 CME/CNE/CECH
Vaccine hesitancy has led to decreased vaccination rates and increased incidence of vaccine preventable diseases across the world.  This increased threat to public health has led the World Health Organization to declare vaccine hesitancy as one of the top 10 threats to public health worldwide.  Decreased MMR (measles, mumps, rubella) vaccination rates in certain areas of New York State also led to the largest measles outbreak the state has seen since the 1990's. Research has shown that there is often a disconnect between the perception providers have about parent hesitancy and their actual level of concern. A strong provider recommendation and proper communication techniques can help close this gap. This webcast will review the safety and efficacy of vaccines and discuss common parent concerns regarding vaccines, as well as the importance of a strong provider recommendation and basic techniques to address parent concerns.
After viewing the webcast, participants will be able to:
Discuss the key concepts of vaccine hesitancy and vaccine safety and efficacy;
Identify ways that providers can address parental concerns and hesitancies; and
Indicate the key components of a strong presumptive recommendation
Target Audience: Physicians, physician assistants, nurses, nurse practitioners, pharmacists, community health workers and certified public health workers.
Watch the CME/CNE/CECH video here.
"Role of HPV Vaccination in Prevention of HPV-associated Oropharyngeal Squamous Cell Carcinoma,"
Learn about the rising incidence of the Human Papilloma Virus (HPV)- associated oropharyngeal squamous cell carcinoma as a public health concern (OPSCC). Identify risk factors related to development of HPV-associated OPSCC. Understand the role of primary prevention for HPV-associated OPSCC. Examine evidence related to HPV vaccination.
Watch the archived webinar here. 
"HPV and Immunizations. A Discussion about HPV from an Oncologist's Perspective. What can be Prevented with this Vaccination,"
Learn about the HPV Virus from an oncologist's perspective. Discuss reasons why the Human Papillomavirus vaccination can lead to prevention of HPV related cancers. Describe the effects of HPV related cancers in women. Understand the burden of the HPV disease and the rationale for vaccinating youth at ages 11 and 12.
Watch the archived webinar here. 
CDC: Perspectives on Oropharyngeal Cancer: Scientific Overview, Clinical Expertise, and Personal Experience
Objectives:
As a result of this webinar, the participant will be able to:
Understand the burden and epidemiology of oropharyngeal cancer as well as the natural history from HPV infection to oropharyngeal cancer.
Understand the difference between oral cancers and oropharyngeal cancers.
Learn how to address common questions about oropharyngeal cancer and HPV vaccine.
Understand the process of diagnosis, treatment, and recovery from oropharyngeal cancer from a cancer survivor's perspective.
CDC oropharyngeal cancer power point
Exploring Effective Strategies to Address Vaccine Hesitancy and Misinformation
Description
Vaccines are a notable public health achievement, which have helped to significantly reduce childhood morbidity, mortality and disease outbreaks. Although science supports their effectiveness, misinformation and hesitancy still exists. It's critical for public health professionals to understand and address these issues to ensure successful implementation of immunization efforts. This webinar will uncover some of the sources of false information such as Twitter bots among other issues online and discuss methods to counter them. Healthcare professionals will also highlight their efforts to engage with individuals, families and the broader community in order to provide them with accurate information about immunizations and address their concerns and hesitancy.
Moderator:
Mighty Fine, MPH, CHES
Director, Center for Public Health Practice and Professional Development, American Public Health Association
Speakers:
David Broniatowski, PhD
Associate Professor of Engineering Management and Systems Engineering at The George Washington University
Thomas Dobbs, MD, MPH
State Health Officer, Mississippi State Department of Health
Jesse Hackell, MD, FAAP
Clinical Assistant Professor, New York Medical College
Vice President and COO, Pomona Pediatrics PC, a Division of Boston Children's Health Physicians
Questions? Contact Mighty Fine.
This webinar is the second in a series on vaccines and public health. Participants can earn one CME, CPH, CHES, or CNE credit.
The Measles Outbreak:

Why Vaccines Matter
The U.S. officially eliminated measles nearly 20 years ago. Yet, this year, more than 1,100 cases have been reported, despite being preventable by vaccine. The CDC says the majority of cases are among those who were not vaccinated.
This Forum looked at the drivers of the 2019 outbreaks and, more generally, the challenges of vaccine acceptance. Why do some parents delay or decline vaccinating their children? How might their concerns be addressed? What about exemptions? Why does the global picture matter? And what can be done once an outbreak begins? New polling data framed this discussion, providing a uniquely current picture of vaccine acceptance in the U.S.
Part of: The Dr. Lawrence H. and Roberta Cohn Forums.
National Foundation for Infectious Diseases
NFID offers a variety of online continuing education activities including accredited continuing medical education (CME) programs, enabling participants to earn credits and gain practical knowledge, tools, and skills. NFID online education programs are designed to be self-paced and are led by key opinion leaders in the field of infectious diseases. The webinars all discuss various vaccine topics.
Immunization Coalitions Network News
Network News is an e-newsletter featuring news of interest to immunization coalitions, including advocacy opportunities, legislative efforts, immunization resources, educational offerings, and national conference information. They also offer several one hour webinars for immunization coalitions.
 The Vaccine Education Center
The Vaccine Education Center (VEC) at Children's Hospital of Philadelphia and the PA AAP offer a free, CME/CEU webinar series for healthcare providers. The series is supported by the Thomas F. McNair Scott Endowed Research and Lectureship Fund. Each Current Issues in Vaccines webinar presents topics being addressed by the Advisory Committee on Immunization Practices (ACIP), covered by the media or asked by parents. Specific topics will be available on the registration page approximately one to two weeks before each event. Each presentation will be 40 to 45 minutes, followed by 15 to 20 minutes of audience questions.
Topics:
Influenza Vaccine: Latest Updates
Impact of PCV13 Vaccine
HPV Vaccine: Possible Expanded Recommendation
VIC Network
The Virtual Immunization Communication Network
A terrific webinar series on immunization issues. Register with them to receive notification of upcoming webinars. Launched in 2009 the Virtual Immunization Communication Network (VICNetwork) is a partnership between the National Public Health Information Coalition — the professional network of public health communicators in the United States and U.S. territories, and the California Immunization Coalition  — a statewide partnership of immunization coalitions and private and public health organizations. The VICNetwork strives to educate local and national health organizations, coalitions, and public health departments about effective immunization communication strategies, the importance of utilizing new media technologies to convey consistent immunization messages and current immunization issues.
The Immunization Partnership
The Immunization Partnership is conducting a Coalition Capacity Building Webinar Series in partnership with the Department of State Health Services- Immunization Unit to provide technical assistance and training to existing and new immunization coalitions in an effort to build and sustain immunization efforts throughout Texas.
Browse the following Webinars:
"Let's Talk:" Promoting Human Papillomavirus (HPV) Vaccination in Primary Care & Dental Practices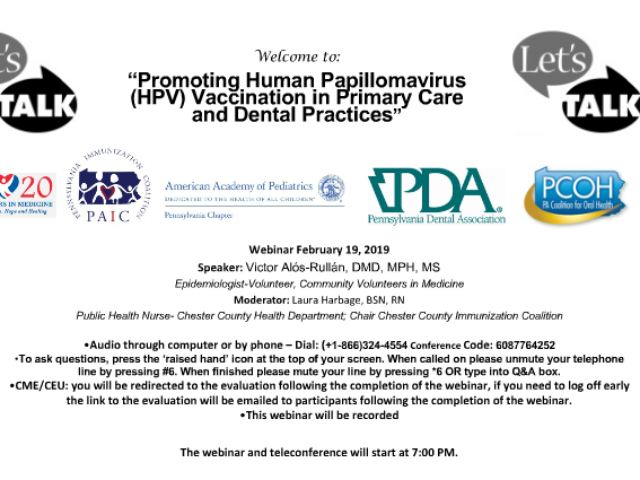 Responding to Parental Requests for Alternative Vaccines