Let's Talk: Promoting Human Papillomavirus (HPV) Vaccination in Primary Care & Dental Practices
Dr. Alós-Rullán is a public health professional with 10 years of hospital dentistry experience and 15 years of public health and data analytical methods experience in federally funded Maternal and Child Health and Federally Qualified Health Center programs. He has10 years of experience in community-based diabetes prevention and lifestyle intervention programs.
Moderator: Laura D. Harbage, BSN, RN— Public Health Nurse, Chester County Health Department; Chair, Chester County Immunization Coalition
Intended Audience: Dentists, Dental Practice Staff, Dental Students, Pediatricians, Family Medicine Physicians, Residents, Nurse Practitioners, Nurses, Registered Dietitians, other Practice Staff
Objectives — At the conclusion of the activity, participants should be able to:
1. Understand the immune-evading mechanism of the Human Papillomavirus (HPV);
2. Describe the rationale for HPV vaccine early in life; and
3. List three key discussion points with parents about HPV vaccination.
Click here to view the archived webinar. 
CDC: Perspectives on Oropharyngeal Cancer: Scientific Overview, Clinical Expertise, and Personal Experience
Objectives:
As a result of this webinar, the participant will be able to:
Understand the burden and epidemiology of oropharyngeal cancer as well as the natural history from HPV infection to oropharyngeal cancer.
Understand the difference between oral cancers and oropharyngeal cancers.
Learn how to address common questions about oropharyngeal cancer and HPV vaccine.
Understand the process of diagnosis, treatment, and recovery from oropharyngeal cancer from a cancer survivor's perspective.
CDC oropharyngeal cancer power point
National Foundation for Infectious Diseases
NFID offers a variety of online continuing education activities including accredited continuing medical education (CME) programs, enabling participants to earn credits and gain practical knowledge, tools, and skills. NFID online education programs are designed to be self-paced and are led by key opinion leaders in the field of infectious diseases. The webinars all discuss various vaccine topics.
Immunization Coalitions Network News
Network News is an e-newsletter featuring news of interest to immunization coalitions, including advocacy opportunities, legislative efforts, immunization resources, educational offerings, and national conference information. They also offer several one hour webinars for immunization coalitions.
 The Vaccine Education Center
The Vaccine Education Center (VEC) at Children's Hospital of Philadelphia and the PA AAP offer a free, CME/CEU webinar series for healthcare providers. The series is supported by the Thomas F. McNair Scott Endowed Research and Lectureship Fund. Each Current Issues in Vaccines webinar presents topics being addressed by the Advisory Committee on Immunization Practices (ACIP), covered by the media or asked by parents. Specific topics will be available on the registration page approximately one to two weeks before each event. Each presentation will be 40 to 45 minutes, followed by 15 to 20 minutes of audience questions.
Upcoming webinars
April 3th, 2019
September 18th, 2019
December 10th, 2019
Topics:
Influenza Vaccine: Latest Updates
Impact of PCV13 Vaccine
HPV Vaccine: Possible Expanded Recommendation
VIC Network
The Virtual Immunization Communication Network
A terrific webinar series on immunization issues. Register with them to receive notification of upcoming webinars. Launched in 2009 the Virtual Immunization Communication Network (VICNetwork) is a partnership between the National Public Health Information Coalition — the professional network of public health communicators in the United States and U.S. territories, and the California Immunization Coalition  — a statewide partnership of immunization coalitions and private and public health organizations. The VICNetwork strives to educate local and national health organizations, coalitions, and public health departments about effective immunization communication strategies, the importance of utilizing new media technologies to convey consistent immunization messages and current immunization issues.
The Immunization Partnership
The Immunization Partnership is conducting a Coalition Capacity Building Webinar Series in partnership with the Department of State Health Services- Immunization Unit to provide technical assistance and training to existing and new immunization coalitions in an effort to build and sustain immunization efforts throughout Texas.
Browse the following Webinars:
"Let's Talk:" Promoting Human Papillomavirus (HPV) Vaccination in Primary Care & Dental Practices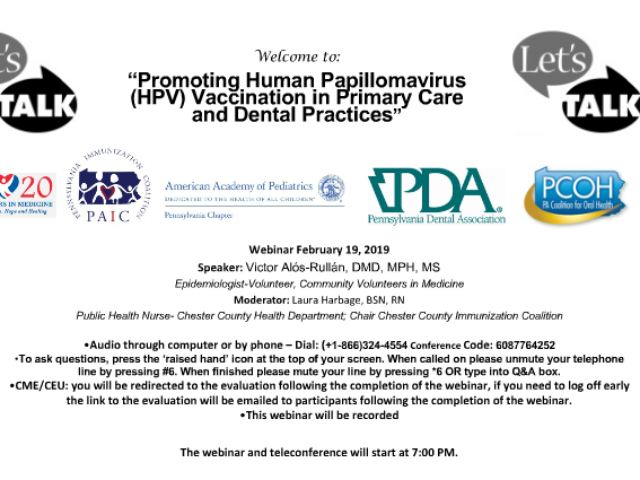 Responding to Parental Requests for Alternative Vaccines