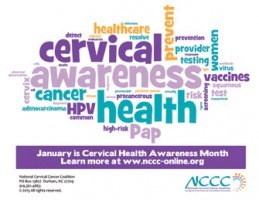 The United States Congress designated January as Cervical Health Awareness Month. Nearly 13,000 women in the United States are diagnosed with cervical cancer each year, but the disease is virtually always preventable with vaccination and appropriate screening (Pap and HPV tests).
VACCINATION
HPV vaccines can help prevent infection from both high risk HPV types that can lead to cervical cancer and low risk types that cause genital warts. The CDC recommends all boys and girls get the HPV vaccine at age 11 or 12 as the vaccine produces a stronger immune response when taken during the preteen years. For this reason, up until age 14, only two doses are the vaccine are required. The vaccine is available for all males and females through age 45 but, for those 15 and older, a  full three-dose series is needed.
TESTING
A Pap test can find cell changes to the cervix caused by HPV. HPV tests find the virus and help healthcare providers know which women are at highest risk for cervical cancer. Pap and HPV tests (either alone or in combination) are recommended for women over 30: each woman should ask her health care provider how often she should be screened and which tests are right for her.
http://www.nccc-online.org/hpvcervical-cancer/cervical-health-awareness-month/
UPDATES
EDUCATION:
CDC Public Health Grand Rounds: Preventing Cervical Cancer in the 21st Century

Each year more than 4,000 U.S. women die from cervical cancer, the 2nd most common cancer in women worldwide. Over 90% of cases of cervical cancer are associated with human papillomavirus (HPV) and the risk of cancer varies among the different HPV strains.  Fortunately, cervical cancer can be prevented through HPV vaccination and screening, which include Papanicolaou (Pap) and HPV DNA tests. These tests detect abnormal cells before they become cancerous (pre-cancers).

Join us for this session of Public Health Grand Rounds.

---

Watch live January 15 at 1:00pm ET on either of our live streaming platforms.

National Cervical Cancer Coalition (NCCC) HPV Webinar Series: Us vs. HPV

Women caring about women. Thought leaders across the globe come together for HPV awareness in January.

January 22, 12:00pm, HPV Vaccine Update
January 23, 12:00pm, HPV & Cervical Cancer: A Global Perspective
January 24, 12:00pm, HPV Related Non-Gynecological; Diseases & Cancers
January 25, 12:00pm, Cervical Cancer, Past, Present & Future
January 28, 12:00pm, HPV & Cervical Cancer Champions

Register for one or more of these webinars here. 
DOWNLOADS
Addressing HPV Vaccine Hesitancy