MCIC is very excited to share that we are partnering with Montgomery County Community College (MCCC), Giant Pharmacy, and JBS Foods to host COVID-19 Vaccine Clinics at MCCC's Blue Bell & Pottstown campuses in August. Information on the clinics are highlighted below:
When/Where:

Friday, August 6, 10am – 3pm: Advanced Technology Center, 340 DeKalb Pike Blue Bell, PA 19422
Friday, August 20, 10am – 3pm: South Hall Community Room, 101 College Drive, Pottstown, PA 19464

Who: open to anyone 12 years of age and older who have not received their COVID-19 vaccine
Vaccine: Pfizer, J&J (if available). Provided by Giant Pharmacy. Clinic is by appointment only.
Incentives: Anyone 21 years and older who gets vaccinated at either campus will be entered into a drawing to win free meat to feed a family of four for a year. ALL attendees will get a free burger, chips, water, and giveaways. Thanks to JBS foods! 
MCIC is very excited to share with you the launch of our AmVAXador program. The goal for this program is to build a network of volunteer AmVAXadors to educate our communities about the COVID-19 vaccines.
AmVAXadors will receive regular email updates that include materials from credible sources to share with their family, friends, peers, and social networks. These materials can also be found on our new AmVAXador Library webpage at montcopa.org/AmVAXador.
We need YOUR help! Keep Montgomery County healthy and safe and help us build a network of volunteer AmVAXadors by sharing the online registration survey link with your family, friends, peers, and networks!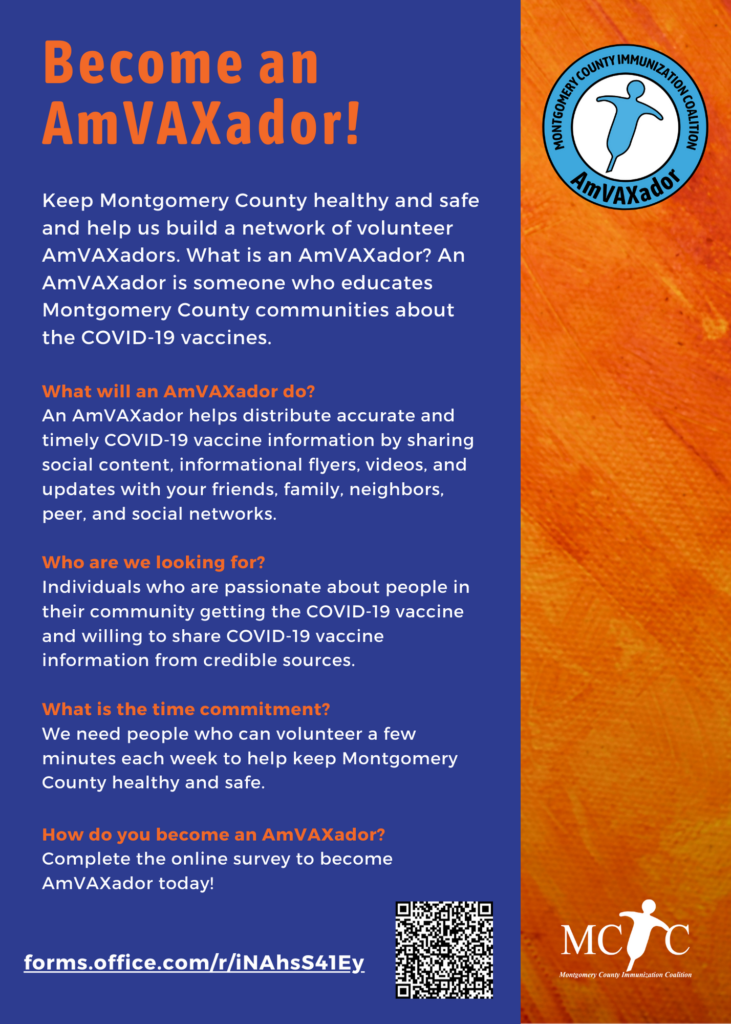 Resources:
---

Coverage Area
Montgomery County
Mission
To promote age appropriate immunizations across the lifespan for all residents of Montgomery county.
General Meeting: 
Virtual Zoom Meeting – see events below or email Maureen Hennessey for zoom link.
Contact Information:
Maureen A. Hennessey, Ed.D.
Chair, Montgomery County Immunization Coalition and 
Manager, Community Health and Equity, Bryn Mawr Hospital/Main Line Health
Phone: (484) 337-5205 | Email: hennesseym@mlhs.org
Bryn Mawr Hospital, 130 S. Bryn Mawr Avenue
Bryn Mawr, PA 19010
Find us on: