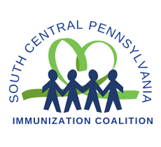 Coverage Area
Adams County, Cumberland County, Dauphin County, Franklin County, Lebanon County, Perry County, and York County
Mission
The South Central PA Immunization Coalition (SCIC) is an independent, community coalition that utilizes innovative education, communication, and collaboration to encourage all residents in the 7-county region to receive all recommended, age-appropriate vaccinations.
Vision
The SCIC is a diverse group of dedicated public health advocates working collaboratively to ensure that no one in the South Central PA region suffers from vaccine preventable illnesses. We believe that this can be achieved through a relentless focus on education, advocacy, and equitable access to care.
We expect the Coalition's core program areas will include life-span Vaccine Education, Community Outreach, Advocacy, Awareness Campaigns, Media Relations, Clinical Support, Partnerships, and Promoting Family Health.
Action Steps
If you are interested in being part of our new coalition, contact immunization@paaap.org for more information. If you are not available, feel free to suggest a colleague or associate who you think would be interested in contributing to this effort.