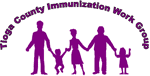 Coverage Area
Tioga County
Mission
To promote community awareness, educate providers, and participate in immunization activities across the lifespan in Tioga County.
Contact Information:
Donna Packard, RN, Workgroup Chair
McKenna Light, Program Coordinator
Wellsboro, PA 16901
Phone: (570) 723-0520
Fax: (570) 723-0522
Email: mlight@tiogapartnership.org
What we are doing:
Baby Bag Project
For National Infant Immunization Week in April, the work group presents each new mother a back pack filled with information on the importance of immunizing her child, parenting information, diapers, and other helpful baby-care items. This project is implemented at Soldiers & Sailors Memorial Hospital, in Wellsboro, PA.
Flu Clinics The workgroup planned and coordinated with local area venues to offer free flu clinics to those in need. While funding for these free clinics has waned, the work group still manages to offer low-cost vaccine clinics during peak flu season.
Immunization Placemats Project
These placemats featured immunization facts for each season and all ages. Information included was specifically tailored for infant and children, college-bound students, and adults.
Networking
This workgroup shares information and strives to stay abreast of newest practices in immunizations across the lifespan. New membership is always welcome. If interested in joining, please Contact Us.
Immunization Schedules: Easy-to-Read Immunization Schedules (courtesy of the Center for Disease Control)
Visit Our Websites:
https://www.facebook.com/www.tiogapartnership.org
http://www.tiogapartnership.org