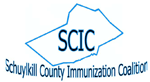 Current Projects
Meeting Schedule

Pilot Project with PA Department of Health to promote immunizations for 14 to 17 year old students
Tray liners to be distributed in August to all area McDonalds
Bookmarks to all libraries in area.
At Penn State University -Schuylkill Haven Campus, 8:30am –  July 26, September27 and November 22nd.
Coverage Area
Schuylkill County
Mission
The mission of SCIC is to ensure that no one in Schuylkill County should suffer from a vaccine-preventable disease through education and promotion of immunizations.
Contact Information
Cecelia Boran  cmb21@psu.edu   President SCIC
Tim Booth     Tim.booth@sanofipasteur.com  Secretary/Treasuer SCIC
Marian Lech   mlech@pa.gov DOH
Kay Jones     kjones@schuylkillvision.com  Director of VISION
Carol Bolinski M.D. bluemtnpeds@!comcast.net  | Visit Vice-President Web page
Upcoming Meetings          All meetings will be held at the Penn State Schuylkill Haven Campus in the Health & Wellness Building, Room 201,  8:30 am to 10am.   Contact Cece Boran  at  cmb21@psu.edu for parking information.
Nov. 22, 2013
Jan. 17, 2014
March 14, 2014
May 16, 2014
July 18, 2014
Sept 19, 2014
Nov. 21, 2014
Downloads